T
he navigation of website is very important and you have invested very carefully to create a perfect menu bar for your site. But it's not all; you also work with your products, banners, sliders and your categories daily. In this article, we will talk more about sliders and banners on your site.
THE PROBLEM
The problem that I want to talk about is Banner blindness – "is a phenomenon in web usability where visitors to a website consciously or subconsciously ignore banner-like information, which can also be called ad blindness or banner noise."
When talking about that, we usually only recognize it as a problem of advertising or a problem that your marketing department has created. While we did not consider it in a different perspective: the user interface dimension that's affected by banner blindness.
It simple is that you put your most important new offer into your banners but your customers can't find it because they don't see it. And then they were trying to find it through your site search or your navigation. It's really like you are trying to make important stuff stand out from the rest of the less important stuff, you actually manage to hide it in plain sight.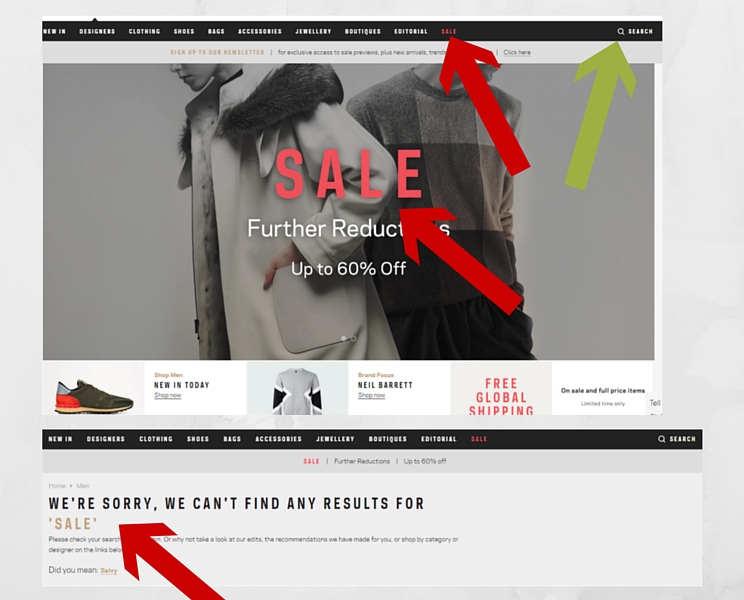 There are many websites that use a huge banner "SALE!" on homepage but visitors don't see it and try searching "sale" in the site search. Unfortunately, the search function of some Magento store was configured in a way that it returns 0 results for that query. This will bring a bad user experience and your customers start hating you. Just because they can't find anything on "sale" while you might actually be in the middle of your annual sale!
These issues are even bigger with banner in sliders, your banner just slide away and maybe your users will never see it. Even if he does, sometime the bad sliders will make they are unable to click on.
THE SOLUTIONS
Some services like Hotjar can help you to observe your users and learn how they interact with your navigation and other navigational elements like banners and sliders.
If don't have any activity through your banners, it's time to find the other useful way of presenting that data. If only half of your navigation is used, probably that people don't recognize the words you use in menu, it's the time to use some other words which are more familiar and associate with what your users are looking for.
In some cases, users are landing on correct pages but they still using search function to searching for the page that they are already on. Absolutely that you are having problems with your design, recheck your site and make sure your headers obvious for your visitors, where they landed.
Landed on sale page with "0" results is just one of many cases may occur with your site navigation. You can fix it by identifying such cases with 0 results from Magento admin panel, and then redirect customers who enter those queries to the proper page.
There are many tools that help you to learn by observing your customers. Through analyzing the user's habits, you can figure out how to modify your navigation to reduce the frustration on your site and in the end, get more sales.
Source @inchoo.net